Multi-purpose hall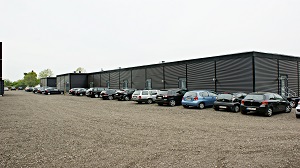 Movable multi-purpose hall with lots of possibilities, for rent or sale
The movable multi-purpose hall is ABC's solution to large open spaces with high ceilings. The prefabricated hall is produced and packed at our factory and is delivered and is mounted in record time.
The building can be used for many purposes; indoor shopping centres, showroom, conference rooms, workshop, storage and fire station are just some of the many possible functions. The multi-purpose hall is build on a frame of glued laminated timber, and the sides are covered with facade boards according to the customer's wishes. The sides and ceilings are well-insulated resulting in a low level of energy consumption. The floor can be made as a temporary solution, however, most customers choose a concrete slab based on their needs. The multi-purpose hall can be rented with a ceiling of 4 metres and bought with a height of up to 6 metres.
Are you in lack of space? The multi-purpose hall can be put up and taken down and thereby moved from one place to another. The hall is thus a great supplement to shortsighted solutions to a lack of space.
In need of help? Our proficient consultants help you through the project from the initial design and planning to construction and execution of the hall – all on a turnkey contract. With all professions gathered under the same rood, we can also help with establishment of parking spaces, tiling and soil work. Contact us by phone + 45 8681 2630 for further information.
Technical data:
Width: 12-15 m – Length: infinite –  Inside height: 4-6 m